RIVALRY WEEK
For many schools throughout the country the Thanksgiving Weekend means Rivalry Week.  Many are intrastate rivalries.  Many are for that state's bragging rights.
The Iron Bowl…the yearly matchup between Alabama and Auburn…this year being played at Jordon-Hare Stadium in Auburn, Alabama! Saturday, 11/30 at 3:30pm
Since the game is being played at Auburn,  I am  sharing my story about our visit to Auburn. In the upcoming weeks during the conference championships, college football playoff and bowl games I will be featuring some of the SEC schools I traveled to during my Tailgating Through The South painting series.  Hope you enjoy and get a feeling about the campuses, the schools and the tailgating.
A TALE OF TWO TREES
The first time I visited Auburn the trees were healthy.
Small bits of toliet paper were hanging from their limbs, a sure sign Auburn had won the day before.
The second time I visited Auburn the trees were dying, poisoned by an Alabama fan in 2010, much to the dismay of Auburn and Alabama fans.  See the story here
Today the trees and soil have been replaced.
As bitter as the rivalry between Auburn and Alabama is, in February 2011 Alabama fans came together with Tide For Toomer's, to raise money to help save the trees.
Just a few months later, in April 2011 after devastating tornados ripped through Tuscaloosa, Toomer's for Tuscaloosa was formed by Auburn fans to raise money to aid victims of the storms.

Now the good news. Auburn is "The Loveliest Village on the Plains".
Toomer's Corner is the intersection of College Street and Magnolia Avenue, where the town of Auburn and Auburn University meet.  Toomer's Drugs is the "corner drugstore", famous for its fresh squeezed lemonade.
 On a trip to Toomer's with my good friends Joanne Astor and Pam Hope, we bought a lemonade from the cutest young lady.  She was busy squeezing lemons through a very commercial looking squeezer.
I asked for the secret recipe and she just smiled.  I guessed a simple syrup with fresh squeezed lemon juice.  Again she just smiled.
Most Auburn fans will understand the inclusion of lemons and lemonade in my "Tailgating At Toomer's Corner" painting.
Notice the hint of toliet paper in the oak tree.  Many Auburn friends wish I had been more realistic with the trees covered in white!  I always defend myself by reminding fans this is a tailgating painting, which means "before" the game.
Tailgating at Toomer's Corner 11″x14″ premium poster prints on sale Reg. $50, now $25 plus shipping while quantities last.  The prints are being retired! Contact kathy@kathymillertime.com to purchase.
Samford Hall is the most recognizable building on campus.  The clock tower plays the Auburn fight song, "War Eagle" everyday at noon.
Jordan-Hare Stadium is the site of many Saturday football victories.
When Joanne and I visited Auburn, we were hosted by Pam and Jim Hope, huge Auburn fans.
Pam shared quite a few recipes with me for the tailgating project.  These Bacon Wrapped Dates were a hit at one of our testing parties.
Serving Size: 32 appetizers
Ingredients
1 pound sliced bacon,cut in half, (thin sliced bacon)
1 pound pitted dates
4 ounces blue cheese
Instructions
Preheat oven to 350 degrees.
Slice dates in half, and open them up.

 Or if whole with pits, 

slice the dates lengthwise on one side to create an opening. Remove the pits.
Pinch off pieces of blue cheese, and place them into the center of the date.

 

Close the halves of the dates, and wrap a half-slice of bacon around the outside.

 

Secure each one with a toothpick.

 

Arrange in a baking dish

 

with sides to catch any grease.
Bake for 30 to 40 minutes, until bacon is crisp.

 

Turn dates over after the first 20 minutes for even cooking.
A BIG hit.
Also tested them side by side with USC pecan dates.
Both were popular, but the blue cheese in this gave the right amount of tartness to counter the sweet date.
Everyone said if you told me I would like dates, I would say no until they tried these. I lowered the temp because the blue cheese melted and oozed out.
Pam Hope via KathyMillerTime

Recipe Printed from www.kathymillertime.com
Thank you Pam for your wonderful hospitality and recipes.  You can enjoy more of Pam' s recipes Signature Recipes here.  Bon Appetit!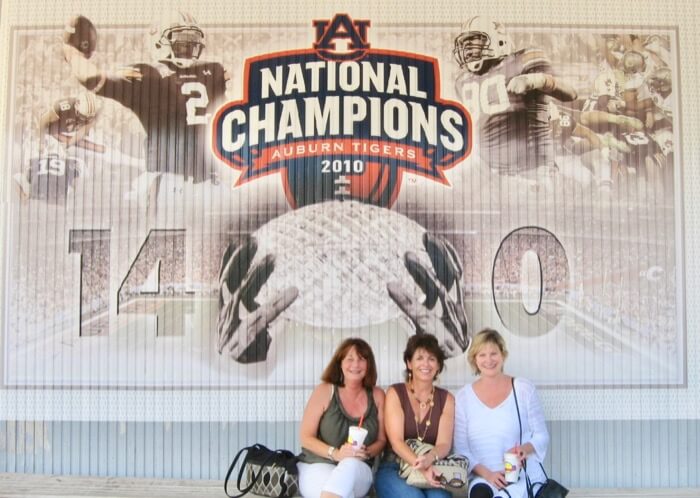 Watch for upcoming stories from my tailgating travels. I welcome your comments, recipes and any inside information on your favorite tailgating spots.
Come celebrate with me.  I'll save you a seat at the table.