The Amelia Island CONCOURS D'ELEGANCE is celebrating its 20th year of showcasing rare and classic automobiles. With 3 major auctions and the Sunday event culminating at the Golf Club of Amelia Island, outside the Ritz-Carlton, this is much more than a car show. Not only is it a fun excursion for car enthusiasts, it raises many dollars for several charities. The largest benefactor is Community Hospice of Northeast Florida. Other charities include Spina Bifida of Jacksonville, The Navy-Maine Corps Relief Society, Shop With Cops, and Micah's Place.
Come visit the Concours today!
The island is hopping with activity. Huge semis have been delivering rare, collectible cars all week.
I visited the spot KathyMillerTime used to shoot a Vintage Picnic in the Grass for an upcoming feature in South Island Living (this is a sneak preview.. photograph taken by Steve Leimberg, UnseenImages.com).
A large tractor trailer had just delivered 2 cars for the Concours to the same spot. Bruce invited me to take a look.
He asked if I liked Christmas colors and what I wanted for Christmas.
Red and Green Lamborghinis….going to be on my Christmas list.
Love the front loader in this picture, which will be in my Vintage Model A post coming in April.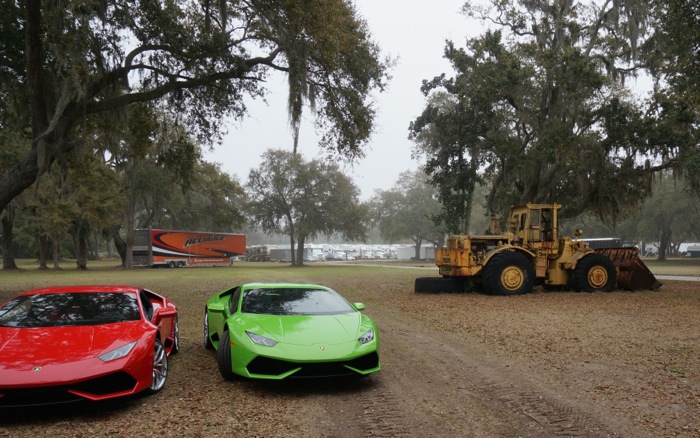 On Friday classic cars paraded down Centre Street in Fernandina Beach.
On Saturday, Festivals of Speed, benefitting Communities in School Nassau, showcased classic cars at the Omni Amelia Island Plantation.
The tents at The Ritz and The Omni remind me of tailgating tents.
Jets parked on the runway at the Fernandina Beach Airport, a short distance away from The Concours.
Come join the fun today at CONCOURS D'ELEGANCE at The Ritz-Carlton.
Watch for my upcoming "Picnic In The Grass in a Vintage Model A".
Come celebrate with me. I'll save you a seat at the table.