For readers familiar with my Tailgating Travels, it is not always about the tailgate. Sure I love lots of good food and elaborate table settings ala the Ole Miss Grove . No one can beat Ole Miss in the tailgating field. But just as important is the mixture of people, fans and alumni that gather to greet old friends, to celebrate their schools' traditions and to enjoy the football atmosphere.
Duke University is one of those special places; a beautiful college campus with a storied sports history. More recently known for its basketball program, the football team, under the guidance of Coach David Cutcliffe, is bringing a renewed interest in football and of course tailgating.
I have never forgotten the first time I visited Duke and saw the Chapel.
It is awe-inspiring.
When the Duke/North Carolina Thursday night game was announced, Dave and I knew a trip to Duke was a must.
Our good friend, Bill Miller secured tickets for us. Bill is a past president of the Duke Alumni Association and a fraternity brother of Dave's.
Friends, Carson and Jeff Howard were our hosts and tour guides. Jeff is the immediate Past President of the Alumni Association and serves on the Board of Trustees.
All were in school at Duke during the same time.
Carson gave us a great walk about campus, starting with the Chapel.
Three pipe organs grace the Chapel. The Flentrop Organ located in the Nave.
The Chancel and main altar in Duke Chapel.
The van der Heyden Pavilion, a coffee/study area in the Bostock Library.
I love this picture from the outside of the van der Heyden Pavilion with Duke's architecture reflecting in the glass.
Dave shows Carson his dorm room freshman year, 3rd window up with the air conditioning unit.
The Allen Building houses administration offices.
The stairwell in The Allen Building. We recreated a photo from Dave and Carson's yearbook.
The Sarah P. Duke Gardens celebrated its 75th anniversary in 2014. The gardens comprise 55 acres in the middle of a major research university.
The Red Bridge at the Asian Garden Area
Motifs in the sand on the pathways
I love chicken coops and this one is pretty special.
The Burpee Learning Center
Many brides walk down this path in the White Garden, including Carson's and Jeff"s daughter, Sally.
The White Garden
The Sarah P. Duke Gardens are beautiful any time of year, even in late November after leaf season.
Duke Gardens was named among the nation's "insanely beautiful public gardens" by the Huffington Post.
2013 Horticulture Magazine and the American Public Gardens Association gave Sarah P. Duke Gardens the "Award for Garden Excellence."
Free of admission, the gardens are funded half by Duke and half by donors. Open year round.
One of my favorite things about Duke; the Chapel Bell Tower is visible from many locations on campus.
I have attended many games and tailgates over the years, but very few have been held on a Thursday night during primetime. I never thought about the logistics problem a Thursday night game creates for the school. The normal Saturday game day tailgating lots are university faculty, staff, and administrative lots during the week. Duke's plan had staff vacating by 3-4 pm with lots opening to tailgaters by 5:30….And the kickoff was 7:30. Imagine that logistics nightmare.
Duke pulled it off like a charm.
We had a great parking spot thanks to Carson and Jeff and I never go to a game without my Tennessee rolling cooler.
Our spot was next to the Rigsbee family Grave Yard, which was on my "to do" or "to find" list.
Not sure many schools tailgate amongst tombstones! Love the history and the saving of the Grave Yard.
Bill and Stephanie Miller had given me Duke tailgating information for Loran Smith's new book, "Spread Formation: Tailgating and Home Recipes From College Football Greats!".
Loran writes,"Even a serious Blue Devil fan might have to enjoy a drink with a seasoned Duke historian to become familiar with the days in Durham when Wallace Wade fielded powerhouse teams and played in the Rose Bowl. Then there was a consistency of split-T success under coach Bill Murray in the 1950s and '60s — six ACC titles, 93 victories — and a brief spell when Steve Spurrier won 20 games in three years along with one ACC Championship. There has been a latent comeback under head coach David Cutcliffe, and nobody appreciates that more than Dave Miller, class of '76."
Tailgating at The Belk Bowl in Charlotte-Duke vs Cincinnati-first bowl appearance since 1994.
Next on my list, find the band.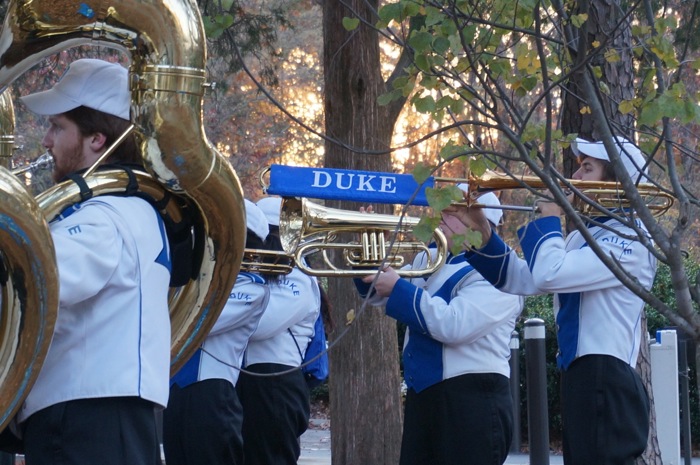 I met up with The Duke Blue Devil.
No campus tailgating is complete without cornhole.
Fans await the mascot, band and team.
The band leads the Blue Devil Walk down Blue Devil Alley
Coach David Cutcliffe
One of my favorite tailgating tables included a turkey shaped crudite platter, fashioned out of raw vegetables.
The Turkey Creators
President Brodhead and wife, Cindy, hosted a wonderful pre-game tailgate or should I say homegate since it was held at The President's house (Hart House). The tailgating buffet was set up in a tent adjoining the house.
Cookies for dessert
Bill LeFevre with our friends and hosts, Jeff and Carson Howard. Bill is the Executive Director of the Sarah P. Duke Gardens and responsible for those beautiful gardens.
The pregame fireworks
The Senior Band members are recognized at halftime.
That spark in the sky…
A member of the All Veteran Parachute Team
The All Veteran Parachute Team entertained us at halftime with great landings.
The final parachuter, sporting a Duke Banner, landed mid field.
Even though the game did not go Duke's way, Dave and I had such a great time visiting with friends and meeting new people. I met Beth Voltz in the line for the bathroom of all places. We struck up a conversation and found that we had lots of connections between our SEC and ACC teams. Her father was a Florida undergrad and Duke law school. Her mom is a Florida State grad (and knows about the FSU circus). Her husband is a Georgia grad and Duke Phd.
I love what I do because I meet great people like Beth.
Thank you to all who made our trip to Duke special. I love to visit with all the fans at their tailgates. I love sharing their traditions and school passions.
Thank you Carson and Jeff. Wednesday night we met up with their daughters Sally, Cameron, and Abigail, all Duke graduates. Sally and Cameron have interesting blogs that I enjoy following.
Sally writes a great food blog Sally Cooks.
Cameron writes The Blonde at the Film, a blog featuring her love of classic films and Hollywood of the 1930s-1950s.
With Christmas fast approaching, Loran Smith's new tailgating book, "Spread Formation" makes a perfect gift for your college tailgating fan.
And I am working on my Duke Tailgating painting. Won't be ready in time for Christmas, but for any SEC fan on your list, tailgating prints are available. ACC is next on my list!
Tailgating Under The Arch
Watch for upcoming stories from my tailgating travels. I welcome your comments, recipes and any inside information on your favorite tailgating spots.
Come celebrate with me. I'll save you a seat at the table.